The 2022 Chesapeake Jubilee – $1 Ride Night!
The Chesapeake Jubilee is back for 2022 and we have a GIVEAWAY to help celebrate! – This Giveaway has ended. Thank you to all who entered! Scroll down to see who won (the winner has received an email from charlotte@myactivechild.com with instructions on next steps)
What started several years ago as a way to celebrate the City of Chesapeake's birthday has turned into a full weekend event that you won't want to miss – you will find carnival rides, a kid's corner for children's activities and crafts, crafters, live music, performers, food, concerts and more. Scroll down to the bottom of this post to enter this GIVEAWAY!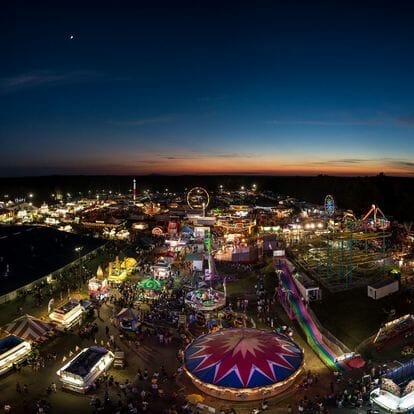 Where: The fun takes place in Chesapeake City Park, 900 Greenbrier Pkwy, Chesapeake VA 23320.
When: May 19 – 22, 2022
Announced 5/18/22: On Thursday, May 19th, the Chesapeake Jubilee, sponsored by Priority Automotive, is hosting the ultimate night of affordable, family fun at Chesapeake City Park. Preview the Chesapeake Jubilee's thrilling carnival midway on Thursday night, May 19th and enjoy $1 rides all night long. 
Cost of Admission (Day Pass): Tickets may be purchased on-site for $3/day. The cost does NOT include rides. (Children 3 and under are FREE). 
Cost of Rides: Individual tickets are sold for $1.25 each, packets of 20 ($25), 50 ($50). Unlimited ride wristbands are also available for purchase (see below)
Cost of Parking: On-site $10/day
Discounts (available before May 20th): 
ON SALE NOW–Family Four Pack for just $85–SAVE $67 WHEN YOU PURCHASE BEFORE MAY 20th! Includes: 2 adult admissions (over 18), 2 kids admissions (under 18), 2 adult unlimited ride wristbands, 2 child unlimited ride wristbands!! Good for any ONE day of the 2022 Jubilee.
On Sale Now: Admission & Ride combo ticket for just $21.25–SAVE $16 WHEN YOU PURCHASE BEFORE MAY 20th! Includes: 1 admission ticket (child or adult), 1 unlimited ride wristband (child or adult!) Good for any ONE day of the 2022 Chesapeake Jubilee.
Description: The 2022 Chesapeake Jubilee kicks off Thursday, May 19th at Chesapeake City Park. Don't miss the Annual Fireworks Extravaganza produced by the world famous Zambelli Fireworks! In addition to great Music and Food, Amusements of America will be on-site with thrilling rides and game. Bring the kids out for what is sure to be a memorable occasion.
2022 Entertainment includes Wolves of the World Show (Performing Daily!)
and The Fearless Flores Thrill Show (Performing Daily!): Live from their quarterfinal run on America's Got Talent, don't miss the exciting Fearless Flores Thrill Show performing daily at the 2022 Priority Automotive Chesapeake Jubilee May 20th-22nd! Watch in amazement as the Flores Family members perform death-defying stunts and motorcycle madness inside the Globe of Death. Your family will be on the edge of their seats while the Flores' display heart- stopping action mixed with some comedy and a beautiful Lyra routine!
The dynamic Flores Family performed the Globe of Death stunt on America's Got Talent season six in 2011 and made it all the way to the quarterfinals. Cyndel Flores, a tenth generation performer, received the Golden Buzzer Award from Travis Pastrana on AGT: Extreme after auditioning with her Aerial Sway Pole Routine. The Flores' certainly know how to live life on the edge and entertain a crowd.
More Information (including the full entertainment schedule): Click HERE: Chesapeake Jubilee
If the link below gives you any trouble when signing up for the Giveaway please CLICK HERE.