"Museums on Us" Promotion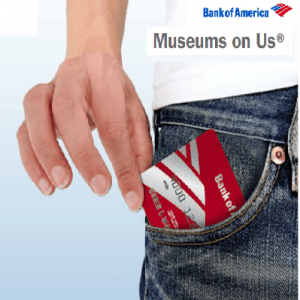 If you are a Bank of America or Merrill Lynch cardholder you can enjoy FREE admission to many different locations including these museums in Virginia:
Portsmouth:
The Children's Museum of Virginia 211 High Street, Portsmouth VA 23704
Richmond:
The Children's Museum of Richmond 2626 West Broad Street, Richmond, VA 23220
Charlottesville:
Virginia Discovery Museum 524 East Main Street Charlottesville, VA 22902  
How to get this deal: According to the Bank of America Website you just need to present your Bank of America® or Merrill Lynch® credit or debit card, along with your photo ID. Please note: Each cardholder gets one free general admission.
For more information about this program please click HERE.
If your family is military make sure to also look into the Blue Star Museum Program where you can get FREE admission during the summer at museums throughout the USA!
Click HERE For Our BIG LIST of Museum Admission and Membership Discounts in Hampton Roads!