Local 2022 Hanukkah Celebrations!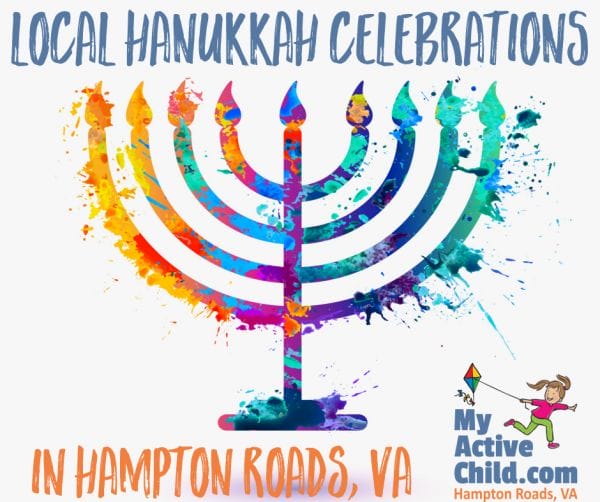 Hanukkah celebrations and events on the Southside and the Peninsula! Wishing you all a happy and safe holiday season. Additions to this FREE Community Listing can be Submitted HERE!
The Hurrah Players: The Best Christmas Pageant Ever & Happy Hanukkah, My Friend (Norfolk)
Dates: December 16-18, 2022.  Friday at 7pm, Saturday at 2pm & 7pm, Sunday at 2pm.
Wiggles & Giggles: T'was the Night Before Chanukah (Norfolk)
Date: Sunday, December 18, 2022 at 10:30am
Annual Chanukah Extravaganza (Virginia Beach)
Date: Sunday, December 18, 2022 at 4:30pm
Hanukkah at City Center (Newport News)
Date: Sunday, December 18, 2022 at 6pm
Grand Menorah Parade (Norfolk)
Date: Monday, December 19, 2022 at 5:45pm
Season of Light at Plaza Middle School Planetarium (Virginia Beach)
Date: Tuesday, December 20, 2022 from 7-8:30pm
Light Up the Holidays at Grissom Library (Newport News)
Date: Wednesday, December 21, 2022 at 11am
Chanukkah on Ice (Virginia Beach)
Date: Wednesday, December 21, 2022 from 4-5:30pm
PAST 2022 EVENTS:
Home Depot Chanukah Workshop (Virginia Beach)
Date: Sunday, December 4, 2022 at 3pm
Kids Night Out – Marvelous Menorahs at Color Me Mine (Norfolk)
Date: Friday, December 9, 2022 from 6-8pm
Mixed Media Menorah Workshop at Kidcreate Studio (Newport News)
Date: Sunday, December 11, 2022 from 10am-12pm