2022 Salvation Army Christmas Assistance (& Deadlines)
NOTE: This page lists the Christmas Assistance programs for four different registration areas in the greater Hampton Roads area. They are not all the same and the dates of registration vary by location. Please scroll down to find the one that covers your geographic area.
Please share with those who could benefit from these programs during the holiday season. Families with children ages 0-12 may apply for this program and receive toys, food and, if selected for the Angel Tree program, clothing items as well.
***Make sure to read all the detailed information on the Salvation Army websites linked below about who qualifies for this assistance and what documentation you need to apply.***  

SOUTHSIDE HAMPTON ROADS – Chesapeake, Norfolk, Portsmouth, Virginia Beach
The Salvation Army partners with 13 NewsNow, Joy Fund, MyTVZ, and the United States Marine Corps Reserves Toys for Tots to provide Christmas assistance to families in need. Families with children ages 0-12 may apply for this program to receive Christmas Assistance. Assistance for each of these programs will then be provided at a single distribution site between December 12th and December 16th
Signup times: August 26, 2022 – October 7, 2022. Apply by using Angel Code: HRAC22
More information is available HERE.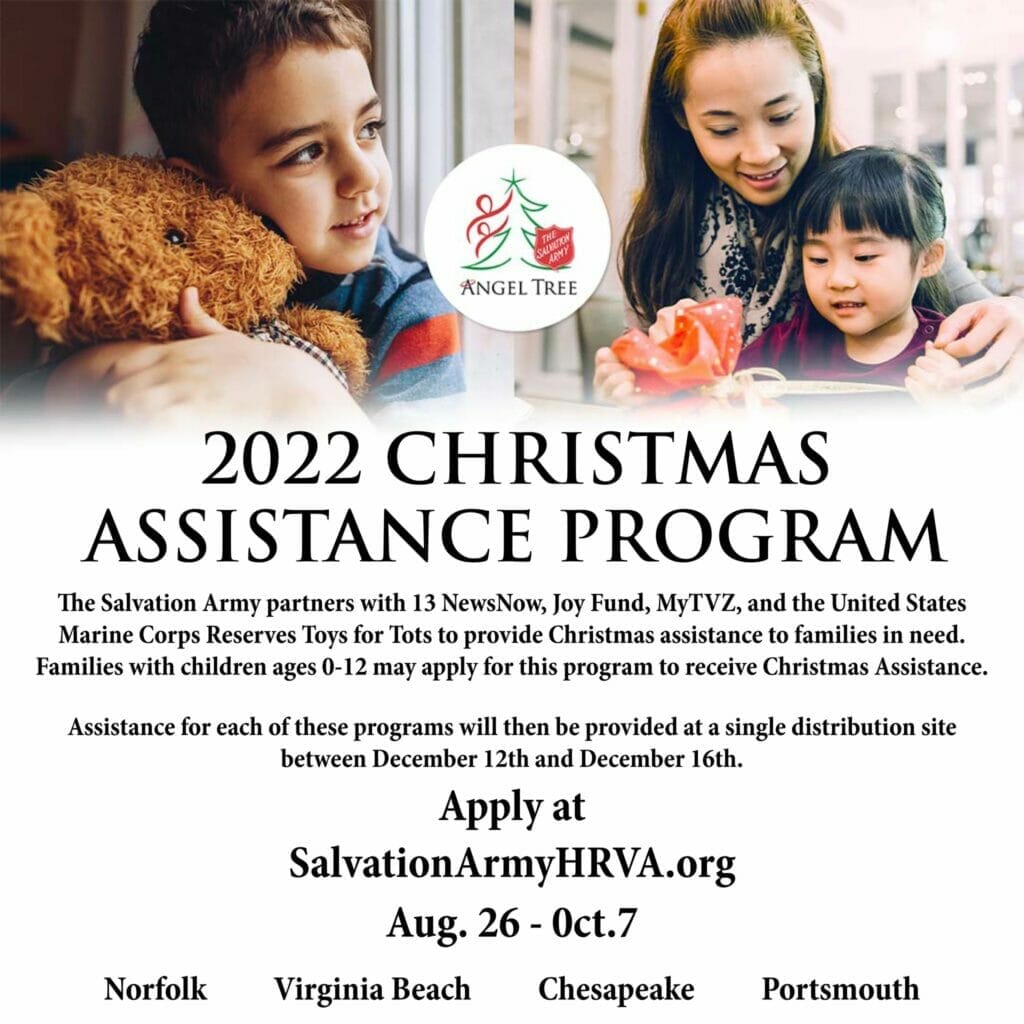 SUFFOLK / WESTERN TIDEWATER – serving Suffolk, Isle of Wight, Surry, Southampton and Franklin:
Location: The Salvation Army Suffolk Corps 400 Bank St, Suffolk VA
Register ONLINE: August 17th -October 17th 2022 https://www.saangeltree.org (no invitation code, use zip code and hit GO) Pickups then are scheduled for December
IN-PERSON SIGN-UPs

October 10-13, 2022 from 10am-2pm @ 400 Bank Street, Suffolk
October 14, 2022 from 10am-1pm @ 306 N Main St, Franklin
More Information is available HERE.
VIRGINIA PENINSULA – serving Hampton, Newport News, Poquoson and Lower York:
Registration for VA Peninsula Angel Tree Assistance begins September 26 and runs through October 11, 2022. Contact (757) 838-4875 for more information.
More information is available HERE.
***Make sure to read all the detailed information above on the Salvation Army websites linked above about who qualifies for this assistance and what documentation you need to bring with you to apply.***

Additional *Possible* Local Resources for Christmas Assistance in Hampton Roads, Virginia: