Kids Can Cook: Pumpkin Pancakes!
Kids Can Cook- Easy Pumpkin Pancakes
By Megan Hogan, Health Coach, Savvy Kitchenista, and founder of www.TakeoutIntervention.com
Is it possible to enjoy the delicious side of fall without falling victim to Halloween candy cravings before the Trick or Treaters even arrive? October kick starts the eating season that lasts until guilt and regret set in on January first. This may even be sooner if you've got a weakness for pumpkin lattes; and let's be honest, who doesn't?
Instead of stressing out about how to avoid the miniature candy calling your name, flip your focus to embrace more healthful fall flavors such as pumpkin and squash. The more you make room for healthy options full of nutrients and fiber, the less room you'll have left for those Trick or Treat rejects.
A double win: no muffin top for mom and fewer sugar crashers for the kiddos.
This pumpkin pancake recipe is sure to be a year round favorite. Your kids will love helping in the kitchen and you'll love how easy they are. While you and your helpers are in the kitchen, make an extra batch to reheat for quick and ready breakfast throughout the school week.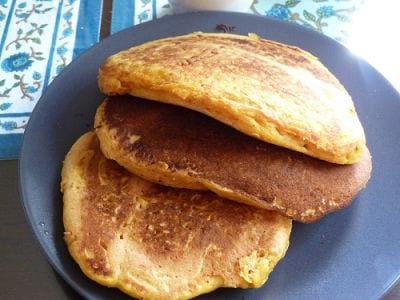 Pumpkin Pancakes
Makes 6-8
Ingredients
1 cup unbleached flour
¼ teaspoon salt
1 Tablespoon Baking Powder
2 eggs
1/2 cup light coconut milk (or another milk)
1/2 cup canned pumpkin puree (applesauce also works)
1/2 c. fresh or frozen blueberries, optional
1 tsp. vanilla
1 tsp. cinnamon
Directions
Mix all ingredients together in a bowl and cook on a skillet or frying pan with butter or coconut oil.
Tip: Cook on Medium heat. Allow entire surface to bubble before flipping.
Found this helpful? I'd love to hear from you!
My mission is to support you to bridge the gap between knowing you should be eating healthier and actually doing it. With easy recipes that can be made faster than calling for takeout and a fun and flexible approach to healthy living, I hope to make your life more delicious.
If you make this healthy snack or any others, please share pictures of your creations on my facebook page at www.facebook.com/TakeoutIntervention.