2021 Family Peach Picking in Hampton Roads
This page may contain affiliate links. For more information, see our terms of use.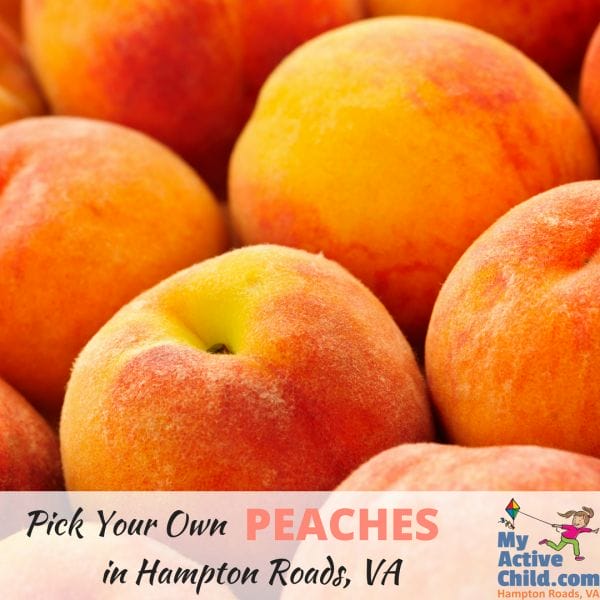 If you have been dreaming of peach season and all the sweet goodness that comes along with it, there are a few local places where you can take the whole family and pick your own!
Please make sure to confirm and check in with the farm for updates via phone, Facebook or website before heading out as picking conditions, hours, and supply will vary!
Featured

Cullipher Farm

U-Pick Peaches AND Nectarines are OPEN for the 2021 season! U-Pick Peaches/Nectarines are available: 8am-1pm Tuesday thru Friday 8am-6pm Saturday and Sunday. Pickers must be in the orchard one hour before closing. Please check Facebook before heading out or call 721-7456.

772 Princess Anne Rd Virginia Beach, VA 23457

http://www.cullipherfarm.com/
Bush Neck Farm (Williamsburg)
Picking: According to recorded message – planning to open for the season in early July for peaches. Closed July 4th. Currently picking blueberries. Check Facebook or call for the latest updates.
Location: Bush Neck Road, Williamsburg, Virginia 23188
Phone: (757) 258-0114
Facebook: https://www.facebook.com/pages/Bush-Neck-FarmInc/677582175648404
Cullipher Farm (Virginia Beach)
Picking: 2021 U-pick Peaches and Nectarines NOW AVAILABLE! Please call or check Facebook before coming out for updates/availability and field closures.
Additional Info: You must pay for all the fruit that you pick, so pick wisely. Keep children near you at all times. NO climbing trees (the limbs will break). Pick only in designated picking areas. If found outside of designated picking area, you may be asked to leave. Keep our orchards clean and beautiful for all to enjoy.
Location: Cullipher Farm 772 Princess Anne Rd, Virginia Beach VA
Phone: (757) 721-7456
Facebook: https://www.facebook.com/CullipherFarm/
Greenbrier Farms (Chesapeake)
U-pick: 2021 U-pick Peaches NOW AVAILABLE!
Pre-picked: Grown on the farm, NOW AVAILABLE in the onsite Farmers Market
Additional Info: Monday through Sunday we will be offering FREE hayrides with the purchase of pick-your-own peaches from the Farmers Market! While you are there, the kids can play on the playground, visit barnyard animals, see ducks, chickens, pigs, goats, and Lilly the horse, see antique tractors and generally enjoy running around the farm. There is NO admission charge. As always, Open to the public. Pick your own veggies NOW AVAILABLE!
Location: 225 Sign Pine Rd, Chesapeake VA
Phone: 757-421-4550
Facebook: https://www.facebook.com/Historicgreenbrierfarms
Martin's Vineyard (Knotts Island, NC)
Picking: OPEN for the 2021 U-pick Peach Season. Check Facebook for picking hours and availability.
Location: 213 Martin Farms Lane, Knotts Island, NC.
Phone: (252) 429-3542 or (252) 429-3564
Facebook: https://www.facebook.com/martinfarmandwinery
Website: https://www.martinfarmandwinery.com
Mount Pleasant Farms (Chesapeake)
Picking: OPEN for the 2021 U-pick Peach Season. Check Facebook for picking hours and availability.
Location: 2201 Mount Pleasant Road, Chesapeake, VA
Phone: (757) 482-0739
Facebook: https://www.facebook.com/mountpleasantfarms
Website: http://www.mountpleasantfarms.com/
Wood's Orchards (Hampton)
Picking: U-pick Peaches are no longer available at Wood's Orchards
Location:183 E. Mercury Blvd, Hampton, VA.
Phone: (757) 722-2873
Check out our Seasonal BIG LISTs of Where to Pick Strawberries, Blueberries/Blackberries and Apples in Hampton Roads!
For those of you interested in U-Pick in other locations, or for other types of produce make sure to check out these wonderful listings: http://www.pickyourown.org for information on U-pick locations and Buy Fresh Buy Local for area locations to buy all your favorite local produce.