Special Events for Children with Special Needs
This page may contain affiliate links. For more information, see our terms of use.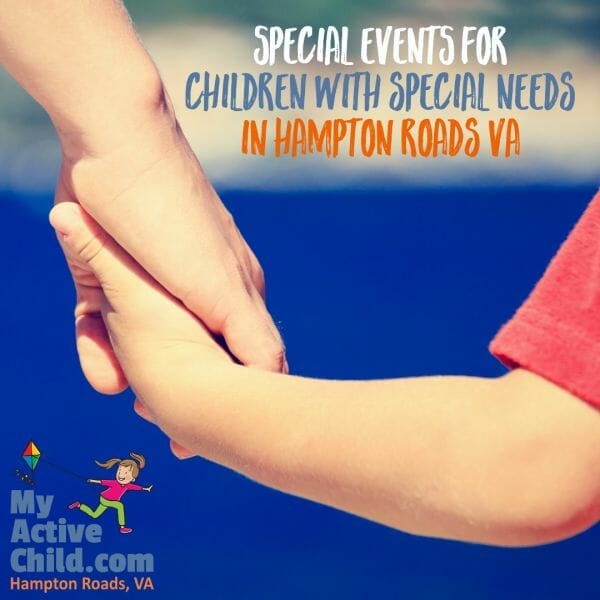 When you have a special needs child or family member you aren't always able to plan family activities in the same carefree way that others do. Many local businesses and museums have begun to recognize that there is a need to allocate time for families who may need extra time, or less stress about noise and behaviors, to enjoy all that they have to offer.
Here is our list of upcoming events specifically designed for local families in Hampton Roads with special needs. Some events are ongoing, and some are one-time events. Please check links to confirm the information and to RSVP if needed. 
Additions to our FREE Listings can be Submitted HERE.
Featured Listings:
SPECIAL EVENTS
Sensory Sunday at Chuck-E-Cheese (Chesapeake, Hampton & Virginia Beach)
Date: First Sunday monthly from 9-11am
Location: Check here for participating locations.
Description: We open 2 hours early on the first Sunday of every month, specifically for children with autism and other special needs. Reduced lighting and noise. Food and games offered. Trained and caring staff
Dates: Every Sunday from 10-11am
Location: Sky Zone Hampton 

2055 Executive Dr. Hampton, VA 23666

Description: Enjoy the freedom of jumping. Sensory hours provide a quieter, toned-down jumping experience for those with special needs. 
Cost: $9.99
Sensory Friendly Spa Sunday (Hampton)
Dates: Every 2nd Sunday at 10am-12pm (By appt)
Location: Wild Child Spa Entertainment 19 N Mallory St Hampton, VA 23663
Description: It's that time again! Tag a friend…Let's spread the word for those who have sensory sensitive children! Every 2nd Sunday we set the scene for our senory sensitive children to have a spa experience they will never forget! April 11th we are offering a special environment to accommodate sensory-sensitive children! We are offering our VIP service which includes a mani and pedi, photo time in the glam room, fun in the spa pool ball pit, and a spa treat and drink for only $45. Appointment Only  
Dates:

Open to all ages. 3rd Fridays from 10am-11am

Location: Splash House VB 311 17th St, Virginia Beach, VA 23451

Description: A special time for kids and adults to explore splash painting as a sensory activity. We will have someone on-site who specializes in working with people with disabilities to help guide the guests. Reservations required. 
Cost: $69 per person 
Sensory Friendly Hour at APEX (Virginia Beach)
Dates: The first Saturday of each month at 11am (or one hour prior to opening): May 1, June 5
Location: Apex Entertainment, 4621 Columbus St Ste 100 Virginia Beach, VA 23462 

Description: Every first Saturday of the month we offer special accommodations such as reduced lighting and sound, sunglasses, sensory toys, and quiet rooms.

Cost: Regular pricing applies 
Date:
Saturday-Sunday, July 24-25, 2021 – 
(Signing Santa available both days from 4-6pm!)
Saturday, July 24th from 10am-6pm
Sunday, July 25th from 12-6pm
Description: 
Don't miss a chance to visit with SANTA (including Signing Santa AND Sensory Santa!) this weekend at Pembroke Mall for 
#JollyJuly
Please note: 
Sensory Santa is by RSVP only and it's from 11:00 to 12:00 on Sunday at Pembroke Mall. To sign up go to 
www.workingclasskarma.org/sign-up
 go down to the orange button with the light bulb on it, and sign up there. 
Date: Monday, July 29, 2021 from 4-7pm
Location: Windsor Great Park Pool 701 Balthrope Rd, Newport News VA
Description: Windsor Great Park Recreation Association, Inc. and Speech and Swim are offering a Sensory Swim on Monday evening July 26th. Message speechandswim@gmail.com for more information. An open swim pool party for individuals with disabilities and their families. 
Cost per family (up to 3 people) $15 members, $20 non-members, $3 per additional guest
Dates: The Second Sunday of each month from 9-11am

August 8 
September 12  
October 10  
November 14  
December 12

Location: The Mariners' Museum and Park 100 Museum Dr, Newport News, VA 23606
Description: Have a family member, friend, or loved one who needs a tailored museum experience? Join us for Friendly Hours on the second Sunday of each month! Friendly Hours is an inclusive time reserved for guests, including those with mobility, cognitive, or physical challenges, who prefer to experience the Museum in a quieter, less crowded environment with reduced sound and lighting. Space is limited so please register in advance to let us know you are coming. We encourage guests and Members to reserve their tickets online, but tickets are also available for purchase at the door. 
Dates: 

August 14, 2021 at 7:30am
September 11, 2021 at 7:30am
October 9, 2021 at 7:30am
November 13, 2021 at 7:30am
December 11, 2021 at 7:30am

Location: Virginia Aquarium & Marine Science Center 717 General Booth Blvd. Virginia Beach, VA 23451
Description: We will open early on select dates exclusively for guests wanting a quieter Aquarium experience. Families that have members with any ability are invited to visit the Aquarium in a calm, comfortable, sensory-friendly environment. Explore at your own pace before we open the doors to the general public. We hope that this special event will ensure a comfortable visit for everyone, before the doors open to the general public at 9 a.m.​
Please note:  

Advanced registration is recommended, and regular admission rates apply.

 One caretaker is admitted at no charge if he or she is working with a guest who is visiting the Aquarium. The disabled guest may request an additional caretaker be admitted at 50% of the regular admission.
Cost: Free for Members; $24.95 Non-member adults; $19.95 Non-member children
Location: iFly Virginia Beach, 2412 Pacific Avenue Virginia Beach, VA 23451
Description: Everyone in the special needs community is welcome to participate! Event package includes a pre-flight training session, all the necessary flight gear (suit, helmet, goggles). Each flyer will be assisted by specially trained Flight Instructors during the event with extra attention and accommodations based on participant needs. 
Cost: Each flyer receives 2 flights (1 minute each) for only $39.95 and a FREE video! Space is limited and Reservations Required.
Dates: 
Location: YMCA Camp Grom, Virginia Beach
Cost: $20 per person in advance. $20 includes a caregiver or parent. Day of registration $25/per person.
Description: Spend your day climbing the 50 foot Alpine Tower, floating in our lazy river, fishing and more! All of the activities offered at JT's Camp Grom are designed to be inclusive and adaptive! The YMCA at JT's Camp Grom is a 70-acre beach style family camp that serves as an accessible, outdoor activity center for everyBODY. We are happy to service our families and children with differing abilities, Gold Star Families, and Wounded Veterans. Scholarships available. Register today at www.ymcashr.org! All activities are open to the community, weather permitting.