Upcoming Special Events for Children with Special/Sensory Needs
This page may contain affiliate links. For more information, see our terms of use.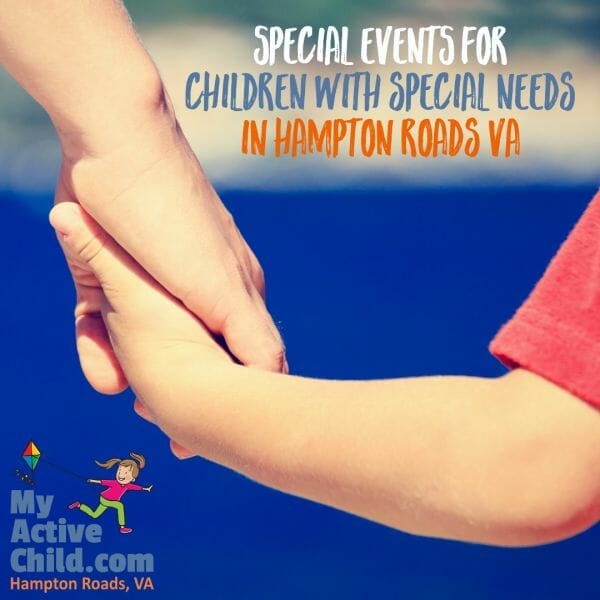 When you have a special needs child or family member you aren't always able to plan family activities in the same carefree way that others do. Many local businesses and museums have begun to recognize that there is a need to allocate time for families who may need extra time, or less stress about noise and behaviors, to enjoy all that they have to offer.
Here is our list of upcoming events specifically designed for local families in Hampton Roads with special needs. Some events are ongoing, and some are one-time events. Please check links to confirm the information and to RSVP if needed. Additions to our FREE Listings can be Submitted HERE.
Also, be sure to check out our program listings for Activities for Children with Special Needs and Athletic Programs for Children with Special Needs and Resources for Families with Special Needs.
SPECIAL EVENTS 
Sensory Sunday at Chuck-E-Cheese (Chesapeake, Hampton & Virginia Beach) – First Sunday of each month from 9-11am
Sensory Hours at Sky Zone (Hampton) – Every Sunday from 10am-11am
Sensory Play Wednesday at Surge Adventure Park (Virginia Beach) – Every Wednesday from 11am-1pm
Sensory Friendly Movies at AMC (Hampton and Virginia Beach) – The second and fourth Saturday (family-friendly) and Wednesday evenings (mature audiences) of every month.
Military: Sensory Friendly Movie Night at NAVSTA Norfolk18 (Norfolk) – January 14 (Despicable Me) and January 28 (Cloudy with a Chance of Meatballs)
Sensory Friendly Spa Sunday (Hampton) – every second Sunday by appt (call to confirm)
Sensory Hour at Splash House VB (Virginia Beach) – the third Friday of the month at 10am
CP Warriors FC at HR SportspleX (Newport News) – the third Saturday of every month
Sensory Friendly Hour at APEX (Virginia Beach) – the first Saturday of each month at 11am
Friendly Hours at The Mariners' Museum (Newport News) – Second Saturday of each month
Sensory Friendly Hours at The Virginia Aquarium (Virginia Beach) – February 12, 2022
All Abilities Night at iFly Virginia Beach (Virginia Beach) – TBA
YMCA Camp Grom Family Days (Virginia Beach) – Check upcoming dates here.