Local Employment Programs For Youth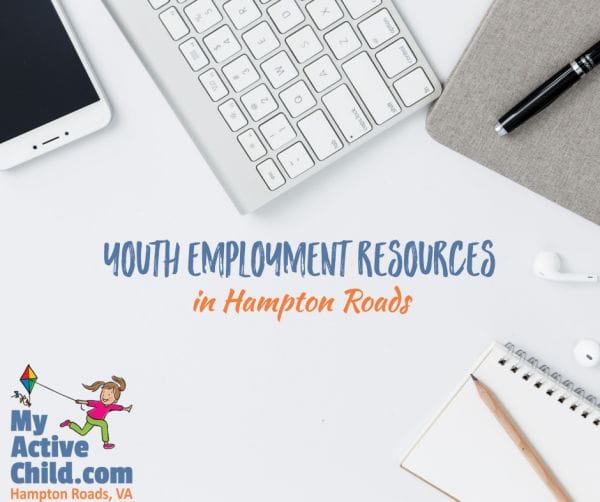 Do you know a teen or young adult looking for a summer job? There are some great local programs that provide job opportunities and/or job training for area youth! Here are links to more information on several local youth employment programs and resources.
Did we overlook a local program? Please submit additions to this FREE List of Youth Employment Resources in Hampton Roads HERE!
Youth Employment Resources in Hampton Roads, Virginia
Hampton Summer Youth Employment Program: Hampton's 10-week, Summer Youth Employment Program, which offers job opportunities within city departments, local businesses and non-profit organizations to young people ages 16-24.
Newport News Summer Training and Employment Program: UPDATE – This program is no longer being offered. Are you between the ages of 16-24 and interested in gaining work experience and income? If you live in Newport News you may apply to participate in STEP. STEP Offers: Workforce training, Financial literacy, Enrichment activities, Work-skill development, GED preparation. STEP Benefits: New job skills to add to your resume, a paycheck, opportunities for permanent employment, a mentor, and life skills.
Norfolk Emerging Leaders Program: The Norfolk Emerging Leaders (NEL) program provides teens ages 16-19 (as well as college and graduate students) with paid summer employment opportunities.
Virginia Beach Summer Youth Employment Program:  The Summer Youth Employment Program (SYEP) provides jobs and workplace readiness skills to young people, age 16 – 21, placing them in a position to succeed in the workplace. Following the program, participants can include solid work experience and abilities on their resumes. Through collaborations with local businesses, not-for-profits, and city agencies, participants are provided with opportunities to develop skills, set career goals, earn money, become financially empowered and learn more about the community in which they live.
Hampton Roads Workforce Council: The Hampton Roads Workforce Council is committed to helping to prepare the emerging workforce for meaningful and successful occupations of the future. Through participation in NextGen Pathways, as well as in-school and out-of-school year-round programs designed for youth ages 14-24, participants learn workplace readiness and academic skills essential for reaching their career goals. Upon completion of the Hampton Roads Workforce Council's youth and young adult programs, many students move on to post-secondary education and find employment through NextGen Pathways hosted recruitment events for local employers.
Youth Employment (NAS Oceana) Employment Readiness — one-on-one counseling is available to include resume writing, job search techniques, completing an application, preparing for the interview, information about area Youth Employment Fairs and much more. For appointments, call FFSC Oceana at 757-433-2912.
Youth Workforce Center (Hampton): The Work Experience Program is intended to provide experience opportunities to eligible youth ages 16 – 24, through a service delivery approach designed to meet the unique needs of the youth being served.  The Program serves as a vital component in helping to prepare youth for the successful transition into the world-of-work whether now or later in their academic careers.  Youth earn a training stipend that is paid through the Youth Workforce Office.
Concerned about transportation? Check out the Hampton Roads Student Freedom Pass!