New Years Day Hikes In Virginia State Parks!

Start 2023 off with some ACTIVE outdoor fun in the local Virginia State Parks! First Landing and False Cape (as well as many other VSP locations) will hold their annual First Day events on January 1, 2023. Admission and parking in Virginia State Parks is FREE on January 1st!
VIRGINIA BEACH
First Day Hike at First Landing State Park (Virginia Beach)
Date: Sunday, January 1, 2023 from 10am-3pm
Location: First Landing State Park, 2500 Shore Dr., Virginia Beach Virginia 23451
Description: Ring in the new year with multiple firsts – a celebratory Ranger-led hike on the first day of the year at the one and only First Landing State Park. Guided hikes will be offered at 10:00 a.m., 12:00 p.m., and 2:00 p.m. This roughly one-hour walk around the Bald Cypress Trail is a great way to get your blood pumping and your intentions set for 2023.  All ages are welcome. Dress for the weather, wear comfortable shoes, and remember to bring water. Well-behaved dogs following mandatory leash guidelines are welcome. Parking fees are waived for this nationally recognized event.  Happy New Year!
Cost: January 1st is a fee free day.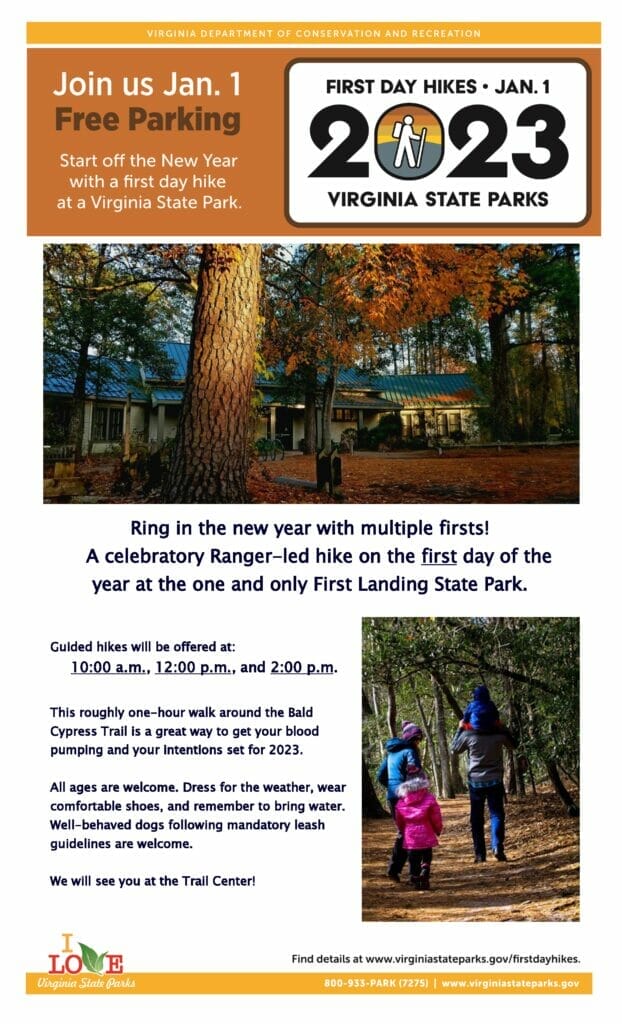 First Day Hike – at False Cape State Park (Virginia Beach)
Date: Sunday, January 1, 2023 from 1-4pm
Location: False Cape State Park, Virginia Beach, Virginia
Description: Start off the New Year with an invigorating winter hike in one of Virginia's most unique state parks. The journey will begin at Back Bay National Wildlife Refuge where we will load the open-aired tram for an adventure exploring several unique areas of the park. Reservations are required, space is limited. To make a reservation please call (757) 426-7128. This is a moderate hike through patches of soft sand. Not appropriate for strollers.
Cost – Fee: $8 per person
WILLIAMSBURG
First Day Hike at York River State Park (Williamsburg)
Date: Saturday, January 1, 2022 from 11am-1pm
Location: York River State Park, 9801 York River Park Rd., Williamsburg, VA 23188
Description: Begin the New Year outdoors on the banks of the York River.  Join us for a ranger guided hike around Woodstock Pond.  We will cover a mile and a half through upland woods and ending along the York River shoreline.  Meet at the amphitheater at 11:00 AM.  Or, take a self guided adventure along our other hiking and multi-purpose trails.
Other Locations in Virginia
Click HERE For The Full List of First Day Hikes in Virginia State Parks!